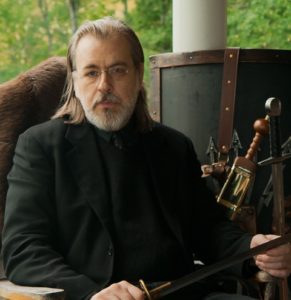 New interviews with Caleb Carr appeared earlier this week on the August 20 episode of The New York Times Close Up and Literary Hub. In The New York Times Close Up interview, which can be viewed around 10 minutes into the episode (view here), Mr. Carr discusses his new novel Surrender, New York which was released on August 23 by Random House. In the Literary Hub interview, Mr. Carr discusses growing up with the Beats, living on Misery Mountain, plans for his continuation of the Alienist series, and his new novel Surrender, New York. An excerpt from the Literary Hub interview appears below along with a link to the full article.
Now Carr has published his first thriller in 15 years with Surrender, New York, a contemporary story set in the fictional Burgoyne County in upstate New York, full of ominous mountain passes and bankrupt factory towns. Returning to the theme of murdered children, several abandoned teenagers have turned up dead and a serial killer may be at work. Dr. Trajan Jones, a bitingly cynical profiler and a 21st century disciple of Kreizler, has been called in to consult on the case.

"I had planned to write a simple book about these dead children," said the 61-year-old Carr in a telephone interview from his stone house on the top of Misery Mountain, in Renssalaer County, New York. "I was going through these New York State documents, and I kept finding references to 'throwaway children,'" where in post-2008 Great Recession America, some desperate parents have been abandoning their children and even moving out of state. "It turns out it is a widespread problem. That is the pitfall of research. It takes you places you didn't plan to go. It stopped being a simple book."
Continue reading at Literary Hub.