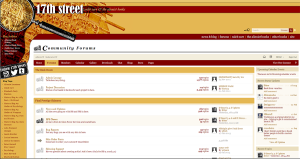 The 17th Street community forums have now been fully integrated with the rest of the website. I hope this makes the forums and website easier to navigate, and encourages discussion among interested visitors to the website. Also note that you can now sign in to the forum through your Twitter account to make joining the forum even easier!
If you haven't previously visited the forums, please feel free to have a look around now. There are a variety of pre-existing topics up for discussion including which historical figures you would most like to see included in a new Alienist book, the development of the relationship between Laszlo and Sara throughout the novels, and who would make the best narrator for a new Alienist book. The full transcript from the chat with Caleb Carr conducted by The New York Times can also be found at the forums, as well as discussion on Caleb Carr's non-Alienist works.
Things might be a little quiet over on the forums now, but the more people who get involved and talk, the better this area of the site can be for everyone. I hope to see you there soon!